"And how can I stand here with you and not be moved by you"
Have you ever wondered that?
This quote is actually a lyric from the song "Everything" by Lifehouse. It is, of course, referring to God.
Think about all God has provided…
Consider the sacrifices he has made on our behalf…
Reflect on the gifts and talents he has blessed us with…
Contemplate the very miracle of our existence…
How can we not be moved by him? How can our hearts not be touched and our lives profoundly impacted?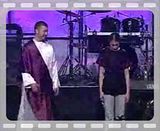 Whether or not you've heard the song or seen the powerful skit performed at Winterfest 2006, do yourself a favor and CLICK HERE TO WATCH VIDEO. And don't stop short on this one. Trust me. Watch it to the end…
Awe-inspiring, isn't it? Most people are 'moved' by this video.
"And how can I stand here with you and not be moved by you"
Ahhhh….but there is a difference in 'how' we are moved. We can be moved emotionally but still not moved to action.
Therein lies the crux of the problem.
We have repeatedly shared with you that, "A good idea will remain only that, just a good idea, unless you put action behind it." We are PASSIONATE about action…hence the name of our ministry!

It's not enough to just watch the video and get goosebumps. It's not enough to just acknowledge what God has done and stop there. It's not even enough to thank God for his miraculous works.
God calls us to action. We need to be 'moved' to the point of taking action.
Are you answering God's call in your life? Are you even aware of what it is?
The song continues, "Cause you're all I want, you're all I need. You're everything, everything."
Do you feel this way?
Is God 'EVERYTHING'?
If so, have you responded appropriately to this? 
Sometimes we get stuck in a rut. Sometimes we're in denial or unaware. Sometimes we become lazy, complacent or simply get overwhelmed. There can be a lot of reasons, legitimate reasons, why you may not be walking obediently in God's light. Whatever the case, it's time to step up and take action. Answer God's call in your life and use what he has blessed you with to glorify his Kingdom each and every day.
Do you need help accomplishing this? If so, please leave a comment below or contact us at lifecoaching@actionplanministries.com
God has done his part. Are you doing yours? 
And if you are, we'd LOVE to hear about it. Please share!